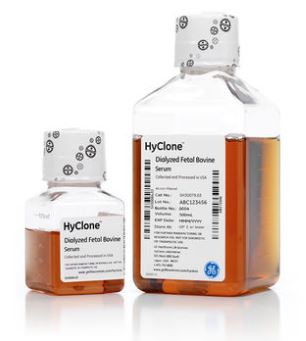 [Hyclone] Newborn Bovine Calf Serum, New Zealand Origin
제품특징
All New Zealand calf serum products are carefully collected, processed, and filtered in New Zealand to ensure safety against bovine diseases.
We follow the same standards in processing of our calf serum as with our Fetal Bovine Serum (FBS) to enable offering the highest quality and traceability.
New Zealand Newborn Bovine Calf Serum is filtered through sequential 100 nm (0.1 µm) pore size-rated filters.
Before dispensing, each lot of serum is pooled using true pool technology to ensure uniformity and consistency between bottles.
제품스펙
Test
Specification
Endotoxin
(Limulus Amebocyte Lysate-Gel Clot)
≤100 EU/mL
Hemoglobin
(Spectrophotometric)
≤50 mg/dl
Sterility Testing
(Current USP and EP)
Bacteria & Fungi
No Growth
Virus Testing (9 CFR 113.53)
Fluorescent Antibody
Bluetongue
Not Detected
Bovine Adenovirus
Not Detected
Bovine Parvovirus
Not Detected
Bovine Respiratory Syncytial Virus
Not Detected
Bovine Viral Diarrhea Virus
Not Detected
Rabies
Not Detected
Reovirus
Not Detected
Cytopathogenic Agents-e.g. IBR
Not Detected
Hemadsorbing Agents-e.g. PI3
Not Detected
Mycoplasma
Large Volume, Direct Culture
Not Detected
Hoechst DNA Stain
Not Detected
Certificate of Suitability
included
| | | |
| --- | --- | --- |
| Product Name | Cat No. | Size |
| Newborn Bovine Calf Serum, New Zealand Origin | SH30401.01 | 500 mL |
| Newborn Bovine Calf Serum, New Zealand Origin | SH30401.02 | 1000 mL |
주요사항
A cost-effective alternative to Fetal Bovine Serum (FBS).
Sourced from New Zealand with complete traceability back to original source
Age of animal at time of collection less than 10 days old

Low in antibodies and high in growth factors

Virus panel testing according to 9 CFR 113.53