[COOK REGENTEC] Cryogenic Vial & Automatic Filling Station & Cell Theraphy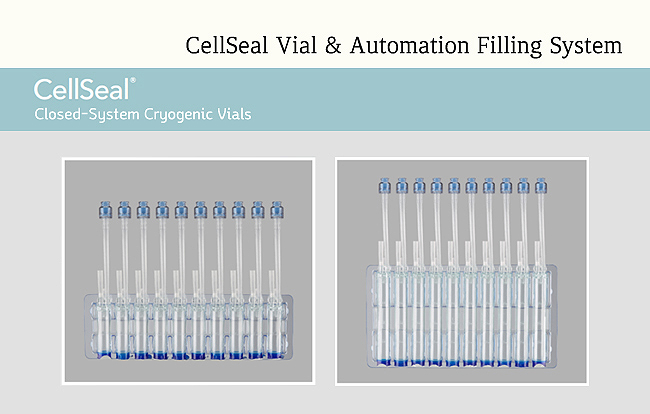 The CellSeal vial is unlike conventional bags and stoppered or screwcap vials because of its unique design. It is created from USP class VI materials chosen specifically for their resistance to chemicals, durability under true cryogenic temperatures, and maximum cell recovery upon retrieval.

This difference in the design means you get:
Consistency: uniform freezing and thawing profile
Durability: fracture resistance
Safety: heat sealed to prevent contamination
Usability: maximum recovery
Flexibility: multiple fill ports and sizes
Scalability: choice of manual or automated filling
With the patented CellSeal vial design, you can reduce risks and add control from early stage product concepts through commercialization.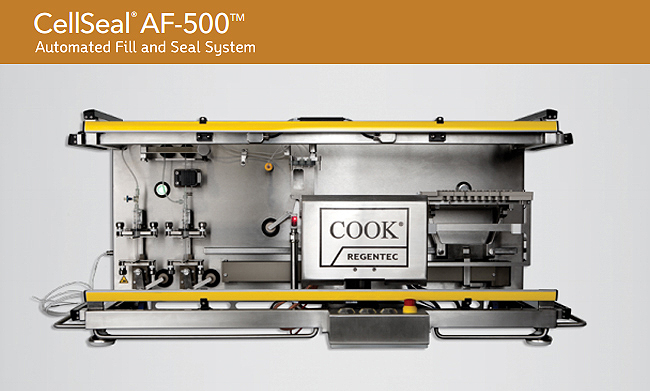 Moving from concept to commercialization, the CellSeal AF-500 delivers the automation difference in a precision engineered, GMP compatible, fill-finish system. For cell and gene therapy developers and manufacturers, the AF-500 provides the path to scale up and standardization with:
Accuracy: 99% fill accuracy
Productivity: filling up to 400 vials per hour
Traceability: detailed process parameters included in batch record and audit trail
Sterility: suitable for Vapor Hydrogen Peroxide (VHP) sterilization
Versatility: designed for a controlled environment; benchtop, biosafety cabinet, or isolator
CellSeal AF-500™ 제품 동영상 바로보기 ⇒ Click

줄기세포, 줄기세포치료제, 유전자세포치료제, 면역세포치료제, 세포치료제, vial, cryovial, 세포치료, cell theraphy, cryogenic vial, cryogenic, Automatic Filling Station, Fill, Seal, Automated filling system