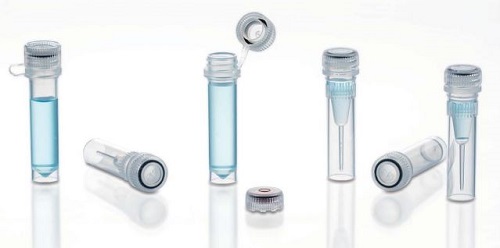 Screw Cap Micro Tubes
Screw cap micro tubes, Low binding screw cap tubes, Cap
제품특징
When Sarstedt introduced the screw cap micro tube about 40 years ago, it established a new class of safe screw cap tube which has proven its worth time and again and has become indispensable in modern research and diagnostics.
The particularly safe screw cap with O-ring sealing in conjunction with the stable polypropylene tube makes the screw cap micro tube a versatile piece of equipment.
They are ideal centrifuge tubes as well as transport or storage vessels, including for high-quality oligonucleotides, enzymes or buffers.
With filling volumes of 0.5ml to 2.0ml, a range of vessel and sealing options and four high-quality purity grades, Sarstedt screw cap micro tubes provide a suitable solution for all requirements.
제품스펙
1. Screw cap micro tubes
-Ordering Information - 0.5ml micro tubes
Cat No
sterile
label
writing
Cap
Amber
Purity Grade
Packaging
with skirted base
72.730
●
5,000
72.730.005
●
●
1,000
72.730.007
●
●
5,000
72.730.006
●
●
●
1,000
72.730.003
5,000
72.730.009
●
5,000
72.730.004
●
5,000
72.730.406
●
●
PCR Performance Tested
100/bag,
500/box,
1,000/case
without skirted base
72.733.001
●
5,000
72.733.010
5,000
-Ordering Information - 1.5ml micro tubes
Cat No
sterile
label
writing
Cap
Amber
Purity Grade
Packaging
with skirted base
72.703
●
5,000
72.703.004
5,000
72.703.406
●
●
PCR Performance Tested
100/bag,
500/box,
1,000/case
without skirted base
72.692
●
5,000
72.692.005
●
●
1,000
72.607
5,000
72.692.405
●
PCR Performance Tested
100/bag,
500/box,
1,000/case
-Ordering Information - 2.0ml micro tubes
Cat No
Sterile
Label
Writing
Graduation
Cap
Amber
Purity Grade
Packaging
with skirted base
72.694
●
5,000
72.694.005
●
●
1,000
72.694.007
●
●
●
5,000
72.694.006
●
●
●
●
1,000
72.694.996
●
●
●
●
1,000
72.694.406
●
●
PCR Performance Tested
100/bag,
500/box,
1,000/case
72.609
5,000
72.609.001
●
●
5,000
72.609.003
●
5,000
without skirted base
72.693
●
5,000
72.693.005
●
●
1,000
72.693.465
●
PCR Performance Tested
100/bag,
500/box,
1,000/case
72.608
5,000
2. Screw cap micro tubes - neutral loop cap attached
-Ordering Information - 0.5ml micro tubes
Cat No
sterile
label
writing
Cap
Amber
Purity Grade
Packaging
with skirted base
72.730.100
●
5,000
72.730.107
●
●
5,000
72.730.105
●
●
1,000
72.730.106
●
●
●
1,000
72.730.217
●
●
●
Biosphere® plus
25/bag,
250/box,
500/case
72.730.416
●
●
PCR Performance Tested
100/bag,
500/box,
1,000/case
-Ordering Information - 1.5ml micro tubes
Cat No
sterile
label
writing
Cap
Amber
Purity Grade
Packaging
with skirted base
72.703.217
●
●
●
Biosphere® plus
25/bag,
250/box,
500/case
72.703.416
●
●
PCR Performance Tested
100/bag,
500/box,
1,000/case
without skirted base
72.692.100
●
5,000
72.692.105
●
●
1,000
72.692.210
●
●
Biosphere® plus
25/bag,
250/box,
500/case
72.692.415
●
PCR Performance Tested
100/bag,
500/box,
1,000/case
-Ordering Information - 2.0ml micro tubes
Cat No
Sterile
Label
Writing
Graduation
Cap
Purity Grade
Packaging
with skirted base
72.694.100
●
5,000
72.694.107
●
●
●
5,000
72.694.105
●
●
1,000
72.694.106
●
●
●
●
1,000
72.694.217
●
●
●
Biosphere® plus
25/bag,
250/box,
500/case
72.694.416
●
●
PCR Performance Tested
100/bag,
500/box,
1,000/case
without skirted base
72.693.100
●
5,000
72..693.105
●
●
1,000
-Ordering Information - Coloured screw caps
| | | |
| --- | --- | --- |
| Cat No | Colour | Packaging pcs./case |
| 65.716 | neutral | 10,000 |
| 65.716.001 | blue | 10,000 |
| 65.716.002 | yellow | 10,000 |
| 65.716.003 | red | 10,000 |
| 65.716.004 | pink | 10,000 |
| 65.716.005 | green | 10,000 |
| 65.716.006 | orange | 10,000 |
| 65.716.007 | black | 10,000 |
| 65.716.008 | violet | 10,000 |
| 65.716.022 | white | 10,000 |
| 65.716.009 | brown | 10,000 |
| 65.716.999 | Colour mix, 10 colours | 10,000 |
-Ordering Information - Colour coded inserts (only fit loop caps)
| | | |
| --- | --- | --- |
| Cat No | Colour | Packaging |
| 65.713 | neutral | 500/bag, 5,000/case |
| 65.713.002 | red | 500/bag, 5,000/case |
| 65.713.004 | yellow | 500/bag, 5,000/case |
| 65.713.005 | green | 500/bag, 5,000/case |
| 65.713.006 | blue | 500/bag, 5,000/case |
| 65.713.007 | violet | 500/bag, 5,000/case |
| 65.713.009 | white | 500/bag, 5,000/case |
| 65.713.010 | black | 500/bag, 5,000/case |
주요사항
♦ Three volumes - universal application
♦ Secure closure - maximum reliability
♦ Colour coding - individual identification
♦ Centrifugation resistance up to 20,000 x g (tested at 20°C for 20 minutes in fixed-angle rotor, filled at nominal volume)
♦ Autoclavable - screw cap micro tubes and caps can be autoclaved at 121°C
♦ Tested tightness according to ADR & IATA - all screw cap micro tubes are tested at a vacuum of 0.95 bar
♦ Stable skirted base - secure footing on the laboratory banch, even without rack
♦ Special knurling - one-handed screwing is easily possible by locking into the special rack