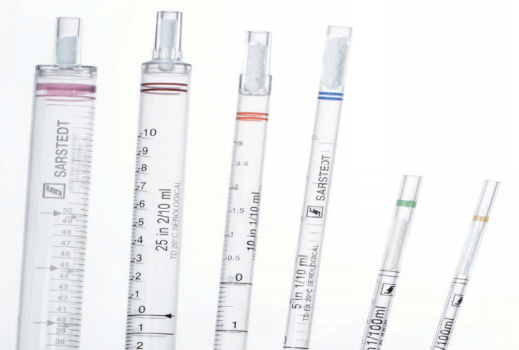 [SARSTEDT] Serological Pipettes
Serological pipettes
제품특징
SARSTEDT Serological Pipettes
Serological pipettes from Sarstedt are produced from crystal clear polystyrene.
Due to the printing with a positive and negative scale, the products are suitable for all kinds of applications.
In addintion, the pipetting volume is increased due to the negative scale.
The optimised mouthpiece of the pipette offers a universal, drip-free seat in conventional pipetting aids.
The marking with the international color code means that quick and easy identification of the different volume is possible.
The individually packaged serological pipettes are sterile and are certified pyrogen-free/endotoxin-free and non-cytotoxic.
제품스펙
Order no.
Total volume/graduation
Design
Color
Packaging units/case

86.1251.001

1ml

1/100ml

Plugged, ind. wrapped, sterile

Yellow

1/1,000

86.1251.025

1ml

1/100ml

Plugged, sterile, in 25 units

Yellow

25/1,000

86.1252.001

2ml

1/100ml

Plugged, ind. wrapped, sterile

Green

1/1,000

86.1252.025

2ml

1/100ml

Plugged, sterile, in 25 units

Green 

25/1,000

86.1253.001

5ml

1/10ml

Plugged, ind. wrapped, sterile

Blue

1/500

86.1253.025

5ml

1/10ml

Plugged, sterile, in 25 units

Blue 

25/500

86.1254.001

10ml

1/10ml

Plugged, ind. wrapped, sterile

Orange

1/500

86.1254.025

10ml

1/10ml

Plugged, sterile, in 25 units

Orange 

25/500

86.1685.001

25ml

2/10ml

Plugged, ind. wrapped, sterile

Red

1/200

86.1685.020

25ml

2/10ml

Plugged, sterile, in 20 units

Red

20/200

86.1256.001

50ml

1/2ml

Plugged, ind. wrapped, sterile

Violet 

1/90
주요사항
Non-pyrogenic/endotoxin-free, non-cytotoxic, individually wrapped, sterile

Easy identification by international color code on the pipette and the paper/plastic peel packaging

Larger pipetting volume due to negative graduation

Variable mode of handling due to reverse graduation

Optimised mouthpieces for universal fit in the most common pipettors

Easy to open, static-free packaging