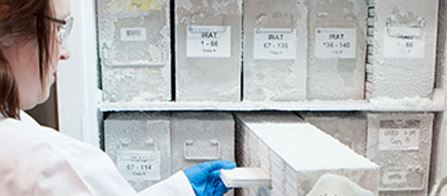 cDNA and ORF Libraries
cDNA and ORFs
제품특징
CCSB Human ORFeome Libraries
The Gateway adapted human Entry ORF libraries are ideal for easily moving entire families of ORFs into your choice of protein expression systems.
Precision LentiORFs
Precision LentiORFs are expression-ready open reading frames (ORFs) that have been cloned into a lentiviral expression vector with a GFP reporter.
ORFeome Collaboration Collection
ORFeome Collaboration clones are sequence-verified, human open reading frames (ORFs) subcloned into Gateway® recombinational entry vectors.
Mammalian Gene Collection (MGC) Clones
The mouse and human MGC libraries contain popular gene families in expression-ready and other vector backbones.
CCSB-Broad Lentiviral Expression Library
A genome-scale library of human ORFS in a lentiviral vector, stop codons have been removed and clones contain a C-terminal V5 tag.
Human ORFeome V8.1 Library
This fully-sequenced collection of Gateway-adapted ORFs represents the latest version of the CCSB Human ORFeome library from Dana-Farber Cancer Institute.
Cherry-pick Clone Libraries
Choose from our predesigned product lines of shRNA and over-expression reagents to build your own custom library.
제품스펙
Predefined Gene Expression Libraries
HUMAN
(number of genes)
Predefined Gene
Expression Libraries
Fully-sequenced
cDNA sets
Expression-ready
cDNA sets
CCSB Human
ORFeome
Precision
LentiORF
hORFeome
v8.1
CCSB-Broad Lentiviral
Expression library
Genome
16,790
6,692
12,794
11,822
11,381
13,248
Apoptosis
315
297
285
Cell Cycle Regulation
291
498
111
101
100
Cytokine Receptors
220
67
130
76
63
62
Deubiquitinating Enzymes
56
57
56
DNA Damage Response
158
144
141
Drug Targets
3,256
2,934
2,870
Druggable Genome
4,907
4,490
4,388
Epigenetics
289
252
245
GPCRs
380
105
173
214
213
208
Growth Factor
175
60
90
Ion Channels
263
75
133
198
191
184
Kinase
714
289
428
Membrane Trafficking
96
90
88
Nuclear Receptors
47
20
32
30
30
30
Oxygen Binding
26
Peptidase
514
186
314
phosphatases
157
64
104
164
167
163
Plasma Membrane
2,207
779
1,240
Proteases
319
290
283
Protein Kinase
480
191
271
428
380
375
Serine Proteases
98
87
84
Transcription Factors
756
282
415
940
792
771
Transporter
1,056
373
635
Tyrosine Kinases
38
37
35
Ubiquitin
143
30
96
Ubiquitin Conjugation
352
336
326
주요사항
CCSB Human ORFeome highlights
• Genome-scale coverage - over 12,000 human genes available as ORF clones
• Gateway entry vectors facilitate convenient transfer of ORFs into compatible prokaryotic, mammalian, viral, or insect expression systems
• Native stop codons have been removed to allow for expression of tagged fusion proteins
Precision LentiORF Library highlights
• Genome-scale library of human open reading frames
• Lentiviral ORF constructs require no subcloning for mammalian expression
• Fully sequenced coding sequences
• GFP reporter is transported to the nucleus for easy visualization of expression
• Clones are available with or without native stop codons
• Available as ready-to-transduce viral particles, glycerol stocks, or LentiORF Starter Kits
ORFeome Collaboration Collection highlights
• Genome-scale ORF collection
• Easily transferable into any Gateway-adapted expression vector
• Available with and without stop codons
CCSB-Broad Lentiviral Expression Library highlights
• Genome-scale expression library of Human open reading frames
• CMV promoter drives ORF expression
• Blasticidin resistance allows for selection of transduced cells
• C-terminal V5 tag for additional utility
• Native stop codons have been removed
Human ORFeome V8.1 Library highlights
• Genome-scale library of human open reading frames
• Gateway –adapted for efficient transfer to compatible expression vectors
• Native stop codons have been removed